Our Pastor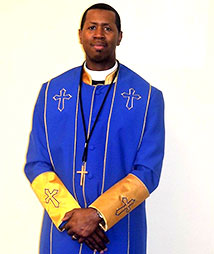 Pastor Jacques Fowlkes Originally from Gainesville, FL, Pastor Fowlkes received salvation and the Holy Ghost in the Spring of 1984 under the leadership of the late Bishop John Sidney Baker and Pastor Algie Morgan in Prattville, AL. He served faithfully in the ministry at the Father, Son & Holy Ghost church as a transportation provider and musician. After leaving the National Guard in the Montgomery area in1988 to fulfill an active duty enlistment in the armed forces, then Brother Fowlkes was further encouraged in the ministry while under the covering of Evangelist Robert & Fonda Jones while stationed at Travis Air Force Base, CA. It was in California that the Lord began to move upon brother Fowlkes in the prophetic gifting with signs following.
A move to Atlanta was made in the fall of 1992 and after 2 ½ years of searching for the right fit for a church home, the Lord led the Fowlkes family to Anointed Word Evangelistic Tabernacle, COGIC in Lithonia, GA where membership was confirmed. While under the leadership of Pastor/Bishop Bobby Henderson, Brother Fowlkes served in the office of deacon, co-chair of the deacon board, director of the Men's Department, choir member, interim internal finance director & director of transportation.
In 2002, Deacon Fowlkes was elevated to minister by Bishop Henderson where he served as a minister-in-training until being licensed in 2006. He served as the chief armor bearer/ adjutant for Bishop Henderson for nearly 10 years. The call to pastoral ministry was acknowledged in the winter of 2008 along with being established as a house prophet for AWET by Bishop Henderson and the fulfillment was realized in March of 2010. At that time, Kingdom Family United Ministries was birthed in Conyers, GA.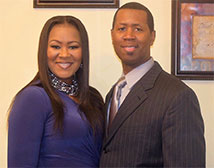 Pastor Jacques Fowlkes was also the owner of a successful private security company serving multiple businesses throughout the state of Georgia. He attended Solano College in Suisun City, CA with a concentration in logistics and is currently pursuing a Masters in Biblical Studies through Ames Christian University. Pastor Fowlkes is in love with the beautiful & supportive Lady Sandra Fowlkes. They are the proud parents of 3 children and 2 grandsons.